PIRATES INFORMATION SEASON 2018 / 2019
Summer Juniors Re-Registrations Day
Sunday 22nd July 2018
Important information regarding Summer registrations
The Pirates Committee and Helpers will be down at Corbin between 11:00am and 1:00pm
taking New Summer 2018/2019 Season Registrations for all Players.
This Year the Pirates will be taking direct debits for registration Fees.
All players must still login and pay your capitation Fees online.
We will also be taking orders for new uniforms and Hats will also be for sale....
Try Baseball / Tee Ball / Softball
Sundays 29th July & 5th August 2018
10:00am - 2:00pm Corbin Reserve Pye rd Quakers Hill
FREE Sausage sandwich / Slushie & Jumping Castles
QUAKERS HILL PIRATES Invites Boys & Girls aged
4 and up to an introduction to Tball, Baseball & Softball
U6's Friday Night Fun Teeball Comp
$110 Friday night 12 week Fun Comp
6:00pm - 6:45pm
Includes - Hat - Shirt - Aussie Tball Pack -
Great first Sport
Starts Friday 14th Sept - Friday 14th Dec (Presentation Christmas Party)
Finished By Christmas
U8's - U17's Fee Structure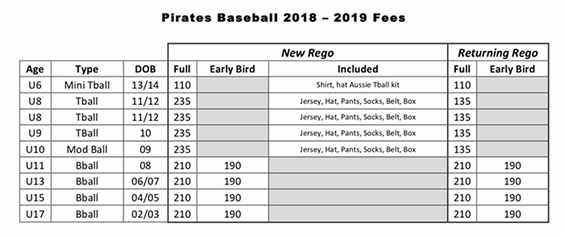 PIRATES RECRUITMENT INCENTIVE
For each new junior baseball player that registers with Pirates for the 2018/19 summer season,
(who has been recruited by a returning player) Pirates will pay a $50 fee rebate to the returning player.

Conditions apply (including that the returning player must notify Pirates by email of the new player
they are recruiting BEFORE the new player attends Try Baseball Day or Registers to Play.
The new baseball player must also never have registered with Pirates in any age group before
and must play baseball with the club for a minimum qualifying period before the rebate is paid.
So start scouting for new junior baseball players Pirates! Bring as many school friends, neighbours
and families as you possibly can down to Try Baseball this year and encourage them to sign up for
the summer season. Apart from introducing them to an awesome Club and Sport you will get a $50 rebate for each successful recruitment that you generate.
For detailed conditions follow the link.
This is not a poaching program and any player that is recruited from another Baseball club will not be eligible for the incentive rebate….
Quakers Hill Pirates Playing Uniform
These great looking jerseys will be available for order from Sunday 22nd July
Jersey numbers are included in initial order
Uniform Price
$60 for Seniors Jersey
$40 for Juniors Jersey
$30 - $35 Pirates Hats

*Trying on jerseys will be available on Sundays 22nd July, 29th July & 5th August between 10:00am - 2:00pm
PIRATES MAJOR SPONSOR
THE ETTAMOGAH HOTEL
Please welcome back the Quakers Hill Pirates Major Sponsor the Ettamogah Hotel.
Please help us support them by joining their Monty's Rewards Program which will give you and the Pirates rewards.
5% off food and beverages
Redeem points for Gift Cards
Exclusive member bonuses
Please open a Monty's registration on the app at our Registration / Try days and then hand
this number into the Pirates committee and then the club will also reap the rewards...

https://www.montysrewards.com.au/
For those that joined last season and have a card you can easily add the App and login with your card # and reset with a new pin #.
Add club code NETPBC
SAVE THE DATE
SUNDAY 21st OCTOBER 2018
The Pirates Parents Teeball Gala day is back!
Sunday 21st October 10:00am Start
$10 per player
New Rules this year to ensure more Parent Fun!
Start thinking about getting your teams organised
If you don't have a team? we will find you one.
Pirates bringing back the FUN!
More Information to come.
IMPORTANT PIRATES DATES
July 2018
Sunday 22nd - JDP & Registration Day
Sunday 29th - Baseball / Teeball / Softball
August 2018
Sunday 5th - Baseball / Teeball / Softball
Sunday 12th - U10's U11's Grading
Monday 13th - U13's U14's Grading
Tuesday 14th - U15's U17's Grading
Sunday 19th - Junior Teams Finalised*
Saturday 25th - Seniors MVP Race Night Blacktown RSL
September 2018
Saturday 8th - Junior U10 – U17 Season Starts*
Friday 14th - U6 Friday night Fun Comp starts
October 2018
Saturday 13th - Teeball U8 / U9 Season Starts*
Sunday 21st - Parents Teeball Gala Day
November 2018
Tuesday 6th - Ettamogah Melbourne Cup Lunch (Seniors)
December 2018
Friday 14th - U6's Presentation / Christmas Party
Saturday 15th - Juniors Christmas Party / Home Run Derby
February 2019
Saturday 2nd - 1st game back after Christmas*
March 2019
Sunday 3rd - Pirates End of Season Party Ettamogah*


If anyone has any questions etc then please contact the Committee asap and we will do our best to answer them.