Junior Registrations Open
Save $20 before Early Bird finishes on Sunday 5th August.
Please follow these 3 easy steps....

1. Go to this link and Pay your State and National Capitation fees.
BNSW Registration

2. Please Fill out all your details for registration at this link
Pirates Registration Details

3. Direct debit into Pirates Club account BSB# 032071 Account# 763220 your Club fees based on this table…

PLease ensure you provide your details on the transaction

If you have any questions please contact the Pirates Committee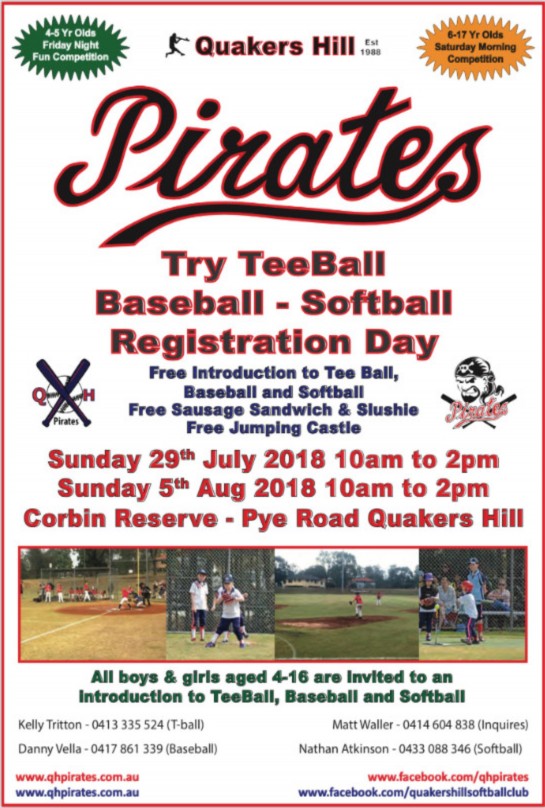 PIRATES RECRUITMENT INCENTIVE
For each new junior baseball player that registers with Pirates for the 2018/19 summer season, (who has been recruited by a returning player) Pirates will pay a $50 fee rebate to the returning player.
Conditions apply (including that the returning player must notify Pirates by email of the new player they are recruiting BEFORE the new player attends Try Baseball Day or Registers to Play. The new baseball player must also never have registered with Pirates in any age group before and must play baseball with the club for a minimum qualifying period before the rebate is paid.
So start scouting for new junior baseball players Pirates! Bring as many school friends, neighbours and families as you possibly can down to Try Baseball this year and encourage them to sign up for the summer season. Apart from introducing them to an awesome Club and Sport you will get a $50 rebate for each successful recruitment that you generate.
For detailed conditions follow the link.
This is not a poaching program and any player that is recruited from another Baseball club will not be eligible for the incentive rebate….
TRY TEEBALL - BASEBALL - SOFTBALL
Don't forget about to tell all your Friends and Family about the Pirates recruitment and Try Days..